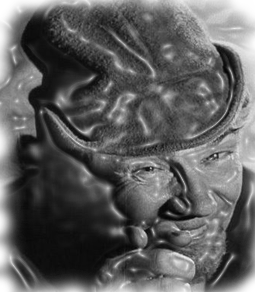 Visits from Satan



by Eloise Gardenier
 We present here some personal evidence and testimonies to confirm Satan's reality. It is not to frighten anyone, only to give the believer the proper understanding so they will not fall prey to the Devil's tricks and devices. We begin with a Scripture. God's Word warns us to "Be sober be vigilant; because your adversary the devil, as a roaring lion, walketh about, seeking whom he may devour." (1 Peter 5:8) In the world, and sadly in a large part of so-called Christianity, we find that several erroneous stands are taken on Satan.
I) The most prominent idea is that Satan does not exist at all, but is a "cartoon figure" something to joke about.
2) Another belief is that he exists in some benign form bland, impotent, and without any affect on man.
3) Then there is a segment of Christianity who becomes so obsessed with his presence that they conveniently charge every sin and evil thing to him. They do this rather than examining themselves to see if they have been lacking in any way.
4) Others believe in something called "ultimate reconciliation", the most blasphemous and unscriptural of all. This teaching is that even Satan and all his "fallen angels" or demons will at last repent and ultimately be saved too. Don't ever bite on this one! Revelation 20:10 makes that very clear. "And the devil that deceived them was cast into the 'lake of fire and brimstone, where the beast and the false prophet are, and shall be tormented day and night forever and ever."

It does not matter which deception one falls prey to; those who do not escape the clutches of Satan shall suffer, along with him, the very same fate. The purpose of this article is to share some of the personal encounters I, and others, have had with our enemy over the last quarter century so the truth of his reality and how he works can be exposed. I do this that the faithful will not be deceived. These testimonies will instruct us that the Devil does in fact exist. It will demonstrate the kind of tricks he tries to pull, how to pray for discernment, and at the same time not blame every unpleasantness or sin on him.

The Deceiver
I still remember the first time I knew in my heart, he was real. Shortly after being born again I watched Faust with Richard Burton, and the Lord gave me the revelation that the devil was truly a real being. Not long after that I had a group of teenagers in my house over night. They had gathered there to hear about my new experience with the Lord. I had been asleep a short time when I awakened with a start to find a grayish/white substance slithering across the floor of my bedroom. Of course my first thought was that my house was on fire and the young people had probably done it by smoking. But very quickly God's own Spirit assured me it was only a ridiculous stunt by the enemy just to frighten me in hopes that I would give up sharing with these hungry young adults. I at once took authority over it in Jesus' name and the strange aberration immediately dissolved. I believe God allowed this supernatural incident to start my education in the ways of Lucifer.
Later, after reading a book called The Challenging Counterfeit, I realized the phenomenon I had seen was probably a form of ectoplasm, (often used in spiritualism) to manifest things.
Old Scratch Proves To Be A Liar
My next encounter was a little longer and more dramatic. In 1974 my new husband and I had been taking every opportunity to bring his elderly mother to the saving knowledge of Jesus Christ. The three of us were on our way from Boston to visit my mother, who had been born-again a few years before at age 70, in Missouri. As we traveled I would attempt to read Scripture and Roy and I would discuss what it meant. Edith would rattle papers bags or rearrange her luggage, anything to keep from hearing the Word. We were discouraged and frustrated.
We laid over in a motel in Illinois and while the two were asleep and I was just dropping off I was startled by a wicked and eerie cackling sound. It sounded like the Wicked Witch from the Wizard of Oz. I opened my eyes and there on the wall beside me was Old Scratch himself His FACE ONLY appeared He looked like the most ugly, traditional satanic face you could image. He had a black goatee; a dark evil sheen covered his wrinkly skin while his creepy laugh worked its way through a mouth full of missing teeth. He cackled again and then spoke: "You will NEVER get her!"
I knew at once he meant my mother-in-Law. I rebuked him in the name of Jesus, as I had to the ectoplasm before, and he disappeared. As soon as we were alone the next morning I told Roy about it. As usual the Devil proved to be a liar because at 77 my mother-in-law invited Jesus Christ into her life and lived three more years in the Lord until her 80th birthday. Those last few years of her life she was a woman delivered from many fears. She went home to be with the Lord having great peace. Satan tried to discourage me into giving up on her but the Lord allowed me to have a big part in her coming to salvation.
The Enemy Ever Lurking About
Sometime in the 1980's my daughter-In-law had grown a beautiful row of zinnias. I took a large number of pictures. I was going through them; very happy with how the photos came out. Then suddenly I discovered a strange whitish transparent mask in the midst of those lovely, brilliant colors. It was a very ugly, glum looking face, even trying to cover one side of a brilliant pink blossom. Rather quickly I realized our PERENNIAL ENEMY had somehow left one of his signatures to remind us he is always spying, lurking about. He will be until he is ... "Cast into the bottomless pit, and shut up and a seal set upon him, that he should deceive the nations no more, till the thousand years should be fulfilled." (Rev. 20:3)
The Devil: Arch rival of Woman
A few years ago our fellowship became determined to spend more time in opening our meeting with praise. We also hoped we would be visited more powerfully by the Holy Ghost. We truly coveted the gifts of the Spirit as the Word exhorts us to do. Soon after initiating a more lengthy praise time we had three women utter prophecies in the same meeting. After a short utterance in tongues This interpretation came forth:

"Come and stand before me in my presence, in the beauty of holiness and I will clothe you with righteousness, yea, even my righteousness, and joy and peace and power. Trust me! Fear not what the enemy can do to you, yes, in fact he will harass you but trust me, trust me that I will keep your foot from falling, even though there may be trials. Just come unto me in the beauty of holiness and we shall fight the battle together. Thus saith the Lord".

Another woman started singing, "Bless the Lord Oh My Soul" and shortly afterwards a second prophetess spoke these words:
"Prepare for the battle, be prepared, I give you the full armor. Don't go out there unprepared. I am with you, I will be victorious. Put on the full suit I have given you. Go out there in faith, filled, knowing I will be with you and that I will be victorious".

A third woman then confirmed the words of prophecies of the other two;
"I shall give you strength. You have no strength at all, but with me you have all the power."
The next morning I was awakened with a loud, threatening voice shouting: "DAMN WOMAN!" Not plural, women; but singular, woman. It was so loud and real I thought it came from the hall just outside my bedroom. I jumped up and ran to the hall to see who was there. As soon as I got to the stairway I realized it was just one more of Satan's devices to harass God's servants. I knew quickly that this fury of Satan was directed at women in general" and was ages old. Genesis 3:15 records that God spoke to the "serpent" saying;

"And I will put enmity between thee and the woman, and between thy seed and her seed; it shall bruise thy head, and shalt bruise his heel."
He was outraged that three woman had gotten spiritual gifts the night before. Yet his wrath wasn't just about those three, but womankind who had brought forth the Savior of the world. That is why his anger was directed at the damn woman and not women.
Satan the Bully
In January 1996 a teenager in the family had been in trouble for some time. On the night of January 15, 1996 as I slept, once more I was visited by the "night stalker" of evil deeds. This time he told me if I would give up writing for the magazine and ministering at our meetings everything would be fine with that beloved family member. I knew he was a liar, and it made me furious he would even try such a thing. It only added to my already steadfast resolve to continue in the work God had given me.
But Satan was not done trying to stop me. Three days later I was at the copy machine, in the area where I do most of my work. I turned to leave the machine and a "force" that is all I can describe it as shoved me off my feet! I went reeling, grabbing at the air and landed with a thud on my right shoulder. (I'm right handed). I have a picture of my slippers in front of the copier which shows I was lifted out of them. I began to cry out in pain. I couldn't get up off the floor. My son and grandson came to my rescue and lifted me off the floor. I felt at once my shoulder had been dislocated. It was!
One of my grandsons drove me to the hospital while a granddaughter held my arm up to relieve some of the pain. When he couldn't scare me into quitting he disabled me. It was some time before I could actually write again or use the computer - but I foiled his plan. I had plenty of other things to do, including witnessing to doctors and giving some of them the CS magazine. I never stopped ministering at our fellowship meetings, or any other opportunity I had when God opened some door. It took time before I was back to normal, but Satan never got the satisfaction of seeing me quit, and he never will see that day, unless the Lord tells me to stop, which I doubt will ever happen while I still have breath.
The family member is better. (Now even a bona-fide born-again Christian.) So Satan was proven to be a liar even in the threat he made to me. He may be able to harass us, even harm us in some way, but we can't allow him and his evil spirits to stop us from the work God has called us to. We must be determined as Paul was when he said; "I can do all things through Christ which strenthenth me." (Phil. 4:13) He also sets this example for us;
"Brethren, I count not myself to have apprehended: but this one thing I do, forgetting those things which are behind, and reaching forth unto those things which are before, I press toward the mark for the prize of the high calling of God in Christ Jesus."(Phil. 3:13-14).
There are many more personal incidents I could add here, but instead I have chosen two visits experienced by family members. One was to a three-year-old and the other to a young man going off to college.
Don't Play Around With "The Snake"
This next account shows how relentless and evil the enemy of our body, soul and spirit is. A grandson of mine lived with us when he was not much more than a baby. He awoke suddenly, sat up with big wide eyes. (His mother reported this to me.) He said; "I saw a BIIIIIIIIIIG SNAKE, it was a monster snake. Everybody was there, (He named a number of family members, mostly unbelievers.) He said no one could kill it, one even had a gun. (but it wouldn't kill it). No one could, but his "uncle T could, he chased it away. His Uncle "T" happens to be the editor of this magazine. He had the authority in Jesus' name to drive the enemy away.
We all knew who the BIG snake was that was harassing a three-year-old. He has not lived with or near us for many years and is now a teenager. About three years ago Satan tried to claim his life with a physical snake. His friend, had a VERY SMALL pet snake, unlike the one in his dream, but poisonous, which he kept in an aquarium. He and friends used to play with it. It bit my grandson's index finger and it had to be amputated to the first Joint. But his life was spared. The moral to this story is to caution everyone not to play with Satan whether it is physical, intellectual or spiritual. He can be deadly.
The Devil Keeps Trying
Once more I must report that the destroyer, that evil one, is active even in a house committed to the Lord. God's workman and His will are never entirely buffered from the Devil's wiles. He never rests from trying to find a weak link. We must be ever vigilant. When one of the young men in our home was going away to college to live on campus he had a personal visitation in the way of a threat. The great bully spoke to him and said; "Now that you are leaving this 'house of God', and are alone, you will be a target for me."
Our enemy tried, but ultimately failed! That young man, has given his life to Jesus Christ, received the Baptism in the Holy Ghost, and been water baptized. He has had his battles with our private or public enemy NUMBER ONE, as we all have, but has confessed he wants to be "a man - a man of God."
There are many more incidents I could record here, but I think the message is pretty clear. Satan is alive and active. He is an ancient being and a clever manipulator. He is referred to in God's Word as "an angel of light", "that old serpent the Devil", "your adversary", "the tempter" and other names. I will follow this report up with an in-depth study of what God's Word reveals to us about his nature and tactics. We will see how to recognize his influence upon us, and how to "resist him so he will flee from us".
Heed the Warnings about "The Enemy"
Chapter five of 1 Peter is addressed to the elders and goes on to exhort them to feed the flock of God, not to be lords over them but to be examples to them. The younger are to submit to the elders, yet we should all be subject one to another, and clothed with humility; to humble ourselves under the mighty hand of God, that He may exalt us in due time, and to cast all our care upon Him. Then we have this warning about our greatest foe. We are given some instruction and a reminder, and then we are encouraged and given a blessing of hope. I believe these are some of the duties of the elders, to make sure the flock wherever they dwell, should be cautioned about the reality of our great enemy, until God puts the final end to his corruption of the universe.

"Be sober, be Vigilant; because your adversary the devil, as a roaring lion, walketh about, seeking whom he may devour. Whom resist steadfast in the faith, knowing that the same afflictions are accomplished in the brethren that are in the world. But the God of all grace, who hath called us unto His eternal glory by Christ Jesus, after ye have suffered a while, make you perfect, stablish, strengthen, settle you. To Him be glory and dominion forever and ever. AMEN" (1Pet 5:8-11).