Heading into
Deep Water








Faith is the great adventure of the Christian life. It is a sea voyage of the spirit; A pilgrimage on earth. We launch ourselves out into the deep blue waters of God's ways and thoughts. We begin riding the waves of His majesty and His wonderful works. This happens to the soul who has faith to give their life over to Him by believing whole-heartedly in Him. As the Psalmist sang out three millennia ago, "They that go down to the sea in ships, that do business in great waters; these see the works of the Lord, and His wonders in the deep." To be sure, faith is the thrill and excitement of the intrepid Christian's sojourn in this life. And yet, we Christians often make living by faith much more complicated than it really ought to be. We think by making it complicated it will be easier to do and follow, when actually the opposite is true, for faith is simple and uncomplicated, but often hard to put into practice.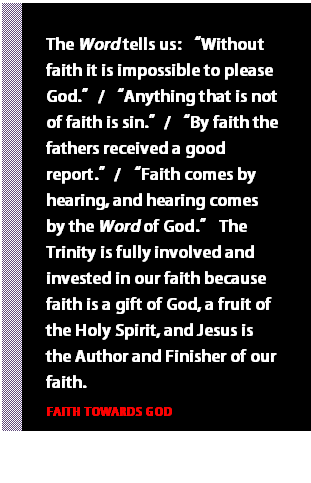 Hearing and Obeying
is Key to Living by Faith
To begin with let us whittle down the matter. Faith can be defined as hearing God's voice and obeying it. As God's word declares, "Faith comes by hearing and hearing comes by the Word of God." Granted this is a sort of catch 22 (which came first the chicken or the egg kind of thing) but Christians must learn to live everyday by faith if they want to live vital and pleasing lives for God. Our ears are opened to God by His Word (through the Spirit and by the Bible primarily, but the Word means Jesus generally speaking) and by the Word coming to us we have the ingredient needed for our faith. We are to live by His voice, that's why the Bible can say: "Without faith [His voice, His Word] it is impossible to please him." Yes, hearing the voice of the Shepherd of our soul is critical to living out our faith before God and man.
Even hearing God's voice is a pure gift of God. God initiates the sound of His voice so that we can hear it in our heart. To be equipped with a heart that can hear God is a gift. Granted it is a gift offered to all men, but still, it only comes by God's mercy. The gift of the Holy Ghost enhances our hearing. He can raise the volume, increase the sensitivity and speak to us in a personal way that is unique to our understanding, personality and immediate need. But this is only half the equation. Responding to the voice of the Good Shepherd is another matter. Hearing and obeying, responding to God's voice is our decision and our decision alone. Hearing God is the way faith begins; obeying God is the most basic thing on which faith is built. The scripture quoted above which says "Without faith it is impossible to please him," continues by saying, "for he that comets to God must believe that he is, and that he is a rewarder of them that diligently seek him". One of the primary rewards God will give to anyone who is willing to believe in Him and listen to Him is an ear in their heart that can hear His voice. We must believe that he recognizes obedience to His voice and rewards it accordingly. But the contrary is true also. This is the down-side, if it can be called such, to hearing God's voice, because if we do not respond to it we are found faithless and unfaithful. We probably would have been better off if we never had heard it. Jesus revealed this attitude of the Father toward not responding to the voice of God, and thus not living by faith. "And that servant, which knew his lord's will, and prepared not himself, neither did according to his will, shall be beaten with many stripes. But he that knew not, and did commit things worthy of stripes, shall be BEATEN with few stripes. For unto whomsoever much is given, of him shall be much required: and to whom men have committed much, of him they will ask the more." Luke 12:47-48
Once we begin to trust God…
Faith then becomes a two way venture. It is both a gift of the Spirit and a fruit of the Spirit. It is given as a supernatural gift for special needs and it is grown in us by trials and experiences so that the sound of God's voice becomes detectable in every valve and fiber of our heart and we are able to discern it over any other voice that will continually be clamoring for attention there. Yes, faith is initiated in us by God but we also contribute to its increase by the prayers and petitions of hope which we bring to Him. Jesus made it clear to His disciples that they should always be cognizant that their faith could fall short of God's expectation and could therefore be improved. See: O Ye of Little Faith Seeking the fullest measure of faith that God will allow in us, plays a large part in having our faith increased. Faith, therefore, is given to us in measure by God according to His will, and according to what we can handle, but we obtain more and more of it by seeking God to give us more. Jesus said to his closest disciples that if they had faith so much as a tiny mustard seed that they could say to a mountain 'get up and be cast into the sea' and it would be drown in the ocean. Those are mighty big words. There is an aspect of faith that does not need growth or anything. If that faith exists it is all-powerful in terms of faith's properties and power to do and bring into existence those things hoped for. But there is an aspect of faith that requires a growth, a maturation: – even a discretion of waiting and praying.
Jesus, whom Scripture names as the Author and Finisher of our Faith, will see that we are given enough of a measure of faith so we can live day to day in the beauty of obedient holy faith thereby pleasing the Father. And he will begin to hone our faith into a fine razor-edge getting us to believe in God more and more by experience in the actual matters of faith, which is a fundamental requirement of trusting and believing unto a living faith. In the end God wants to instill faith, a faith which teaches total reliance and trust in the Trinity in every situation no matter what the appearance or circumstances may be.
Three Enemy Voices Counter Faith and Must Be Rejected
So, young Christian, and fellow saints, the key to living by faith is learning to hear and discern God's voice, which is none other than the voice of the Good Shepherd, Jesus. We must be taught that all the other voices (of which there are three primary fountains) that press in around the psyche of our soul, and continually clamor for air time in our minds and hearts must be totally rejected. These three powerful enemies try to influence us through their persistent voices. The first comes from Satan, an intimidator, liar, and accuser; the second is the World, the great voice of mankind that deceives and seduces; and the last, and most dangerous, is Self: the voice of our mind and our flesh. In many ways we are our own worst enemy because by nature we can't help but love the sound of our own voice. Eph. 4.17-18
There are three enemies which try to undo our relationship with Christ. All three of these enemies must be resisted constantly as we negotiate our way through life waiting for the ultimate deliverance by Jesus from heaven. The three enemies are: 1) Satanic wickedness: i.e. Satan and his minions; 2) The World: i.e. all that it teaches and preaches to us from the day we are born, and 3) Self.
Often we focus in on Satan when we talk about deliverance but it is much more involved than that. Though we all need deliverance from bad spirits we also need deliverance from the other two enemies. The Book of 1 John talks about the enemy of the world, we are told in Scripture that anyone who is a friend of the world is an enemy of God. The world engulfs us and subtly tells us good is bad and bad is good; its ways of pride and ego and selfishness are contrary to God's ways and the Spirit of truth and mercy and judgment. That is why God has said that His ways are not our ways and our thoughts and not His thoughts. But the most vital of all these enemies to defeat is - ourselves. Paul speaks of this great conflict in Romans chapter 7. "For I know that in me (that is, in my flesh,) dwelleth no good thing: for to will is present with me; but how to perform that which is good I find not. For the good that I would I do not: but the evil which I would not, that I do. ... O wretched man that I am! who shall deliver me from the body of this death? I thank God through Jesus Christ our Lord. So then with the mind I myself serve the law of God; but with the flesh the law of sin." Romans 7:18-19, 24-25
The apostle Paul touches on what we need Christ to deliver us from, so that we may be delivered from sin and death and live by faith. The three major enemies that seek to rob or inhibit or otherwise confuse our faith are exposed in the opening chapters of three of his epistles. These three examples from the Scriptures show the daily deliverance needed from these basic enemies of our faith which equates to being any enemy of the salvation of the soul.
DELIVERED FROM SATAN

- Colossians 1:13 says, that the Father "hath delivered us from the power of darkness, and hath translated us into the kingdom of His dear Son." We can be delivered from the hold Satan has had on us and brought into God's kingdom.

DELIVERED FROM WORLD

- In Galatians 1:4 Paul mentions deliverance from the second enemy when he thanks Jesus "who gave Himself for our sins, that He might deliver us from this present evil world." God can make it so we live as he asked us, as being in the world, but not of it.

DELIVERED FROM SELF

- And perhaps most critical of the three, we can follow what is declared in I Corinthians 9-10 and be delivered from Self. Paul told the Church that "we had the sentence of death working in ourselves, that we should not trust in ourselves, but in God which raiseth the dead: who delivered us from so great a death, and doth deliver: in whom we trust that He will yet deliver." For deliverance from self we must be delivered today, tomorrow and every day. And we must trust God to deliver us from trusting in ourselves. We must have the sentence of death "working" as Paul has said, "working" in us at all times. Do not shy away from learning to identify these voices in the heart and soul, rejecting them is a paramount deliverance needed by all the faithful saints of Christ. It is good; and God's full mercy on us.
Deliverance for those that have been bruised by these three lying voices is one of the six mission points of Jesus as declared in the Word in Isaiah 11 and Luke 3. To live a life of faith on a daily basis we must learn to discern the voice of God in our heart, reject, or at least filter through the Word, all voices that are not the Good Shepherd's, and be delivered from love of self, entanglement with the world, and from making concessions to the demonic bullies under Satan's evil power. Jesus promised - "My sheep hear my voice, and I know them, and they follow me." We must believe this whole-heartedly if we are to live by faith. If we are born-again by inviting Jesus into our heart then we should know beyond a shadow of a doubt that Jesus has the power to make His voice known in our heart.
There Is Difference between Hope and Faith
To live by faith, the Christian must also learn to differentiate between faith and hope. To mistake hope for faith, is to flirt with disappointment and even bitterness against God. The Scriptures say, "faith is the substance of things hoped for, the evidence of things not seen." (Heb.11:1) Couple that with the biblical tenet "faith without works is dead" and we see that the things we hope for are not yet reality. But faith is reality. We can act upon faith because God has said, "It is real, it is done".  Don't get it wrong, though, hope is a vital part of the Christian voyage. We may have many legitimate hopes, just as God hopes for all men to come to salvation, but our hopes and expectations are not always realized. We need to understand that men's wills enter into the process of salvation and redemption and often hope is not turned to reality because of the stubbornness of their hearts.
Only when God's word (the Good Shepherd's voice in our heart on a given subject) comes to us can we then know we have faith for something, for it has been delivered to us, as the Bible says, "faith comes by hearing and (our) hearing comes by the word of God."
When we hear Jesus' words on a matter it requires action, some sort of spiritual action, because faith without works is dead. When Jesus speaks we can believe that those things we hoped now have the evidence to support their reality and though they are unseen and the circumstances and appearance are not yet apparent, we can act. Faith through Jesus' voice gives them substance (form, shape, and reality). So, living by faith on a daily basis hinges almost exclusively upon hearing Jesus' words on a subject because He is the Way, the Truth, and the Life. And we must be willing to be delivered from the voices of Satan, the world and, of course, the vanity of our own mind.
Spiritual exercise, trials and tribulations, experience, God's admonishments, and His chastisement, all work to increase our discernment about hearing His voice and enable us to recognize and reject all other voices (spirits). Jesus said, "My mother and my brethren are these which hear the word of God and do it." The Psalmist said, "Seek the Lord with all thine heart, and lean not unto thine own understanding." Remember hope is not faith; because faith comes by hearing and hearing comes by the word of God. Don't fall into the traps of presumption (faith not presumption) telling God what His word says and demanding He apply it when, where, and how you say so. Living by faith is obedience. Want to be Jesus' brother, sister, or as His mother? Hear the word of God and do it. Solomon summarized his search for wisdom and the true way of life in the book of Ecclesiastes by saying this, "Let us hear the conclusion of the whole matter: Fear God, and keep his commandments: for this is the whole duty of man." Eccl. 12:13Solomon was only saying, "We should live by faith".
Faith is key to pleasing God, "For by it the elders obtained a good report."
Alarmingly the Bible even says, "Anything that is not of faith is sin". If you want the adventure of the Christian life to come alive in your voyage with Christ then you must seek the obedience of living by faith every day. When all is said and done, faith is hearing and simply, as a child, obeying God. Anything not done by faith is sin – think about that when considering the importance of living by faith, brothers and sisters!