Altar of
Burning
Flesh
Repenting
From
Ourselves

by Terry Smith
e're all in the same boat. Every Christian ever born, every Christian ever to walk the face of the earth suffers from the same infirmity. This, brothers and sisters, is the plain simple truth. Sure, each one of us suffers from our own unique set of infirmities which is different from anyone else's. Infirmities are imposed on us by the enemy of our soul, they stick to us from contact with the world, they are inherited through the sins of our fathers by way of spiritual inheritance, clearly, we are beaten and battered by the wickedness of the sin of other men, and this beating we are given is not our fault.
But, it has to be admitted that we also pick up infirmities and sins along the way by our own indiscretions, unchecked lusts, inordinate fears, selfishness, even by our reactionary anger to the abuse laid on us by the forces of evil. Each infirmity can be dealt with or shaken off, mostly we have to repent of our sins and let them be covered by the forgiveness of Christ's blood, the sacred blood, shed for the remission of our sins. We have to let him heal us of a broken heart, our blindness, cowardliness, hopelessness, fear, and such.
There is, however, a universal infirmity that is common to every member of Christ's body; young and old, strong and weak, an infirmity that will never go away, and not even the power of God can make it disappear. The infirmity common to us all is the one spoken of in The Book of Romans (chapter 7) by the apostle Paul. He wrote; 
''I speak after the manner of men because of the infirmity of your flesh."
What Paul is talking about here is not an infirmity of the corporeal body of flesh, brothers and sisters; not an illness, a disease, or a singular battle against the sin of our soul. It is the infirmity of the flesh, of material existence and its constant tug and lure. The problem is our flesh. It is what the Bible calls our carnal nature, and there is no victory over, no compromising with it, or negotiating a suitable peace. The one remedy is to kill it dead, because if we do not it will produce dead works, temporary things which will be exhausted and destroyed by the temporary nature of this earthly habitat in which we walk. We cannot, and do not want to commit suicide – this should be obvious, so the Scriptural suggestion to kill the Flesh is not literal and must be taken only on spiritual grounds. It is simply and directly what the Bible means when it says to pick up our cross and die to self. Paul's words are perfection on this matter.
 "I am crucified with Christ: nevertheless I live; yet not I, but Christ liveth in me: and the life which I now live in the flesh I live by the faith of the Son of God, who loved me, and gave himself for me." Galatians 2:20
What to do then? We must defeat the flesh with weapons of the spirit. We must have faith in the operation of God to subdue and bury the flesh. "Buried with him in baptism, wherein also ye are risen with him through the faith of the OPERATION OF GOD, who hath raised him from the dead." Colossians 2:12 So - he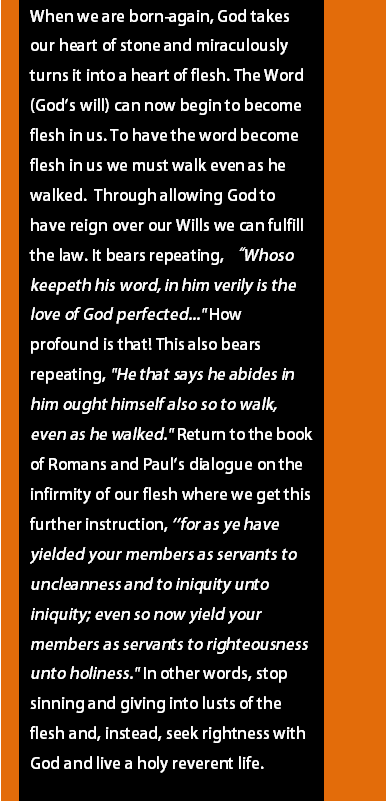 re is how it works. God does it for us. We must repent even of trying to crucify ourselves under our own powerful will and courage for this would be a dead work of our own flesh if we even tried it, never mind the fact that we could never do it in truth. This death operation by way picking up our cross is performed by the Spirit of God in us. He sets the tone, gives the grace, makes the arrangements, in short, God performs the operation of our 'death to flesh' like a surgeon operates on a patient, with skill and with a designed end to raise the patient up in newness of life, freed from the disease and corruption of the infirmity of the Flesh. God will lead us to the cross, make all the arrangements and make it possible for us to pick up our cross, but we must do it. "And he said to them all, If any man will come after me, let him deny himself, and take up his cross daily, and follow me. Luke 9:23 "And whosoever doth not bear his CROSS, and come after me, cannot be my disciple." Luke 14:27 Burying the Flesh then is matter of daily denial, or on-going repentance from the dead works of our flesh. God will perform the operation and make the arrangements for the grace we need to submit, but we must take up the cross; we must bear its 'shame'. If not we cannot be His disciple. That's what Jesus said. If we do not disdain the dead works of the Flesh, turn fully from them, in all their variegated infestation of our Flesh, we cannot be following Him. You can't follow both. You cannot serve two masters, is the ay Jesus put it in another sermon. We must put away the Flesh by the spirit, by obedience and faith in the Holy Spirit and faith in the operation of God to bury us and raise us up with Him. This is a completely spiritual operation. It is unseen to others, only visible in the changes of repenting from our outward trust in our own Will. The only visible and tangible proof of it is the fruits of righteousness, joy, love and peace; and the shriveling away and death of our sinful behavior. The outward effects enjoyed by the society of God's people will be evident. Deliverance from sin and increased godliness will be felt, maybe even noted, by those living and working with a repentant Christian. The change will be more than noticed, it will be appreciated.

What to do about 'The Flesh'
Paul goes on in Romans to say:

"For we know that the law is spiritual: but I am carnal, sold under sin. For that which I do I allow not: for what I would, that do I not; but what I hate, that do I.
If then I do that which I would not, I consent unto the law that it is good
Now then it is no more I that do it, but sin that dwelleth in me.
For I know that in me (that is, in my flesh,) dwelleth no good thing: for to will is present with me; but how to perform that which is good I find not.
For the good that I would I do not: but the evil which I would not, that I do.
Now if I do that I would not, it is no more I that do it, but sin that dwelleth in me.
I find then a law, that, when I would do good, evil is present with me. For I delight in the law of God after the inward man:
But I see another law in my members, warring against the law of my mind, and bringing me into captivity to the law of sin which is in my members.
O wretched man that I am! Who shall deliver me from the body of this death?
I thank God through Jesus Christ our Lord So then with the mind I myself serve the law of God; but with the flesh the law of sin.
O wretched people that we all are, who shall deliver us from this body [this flesh] of death?"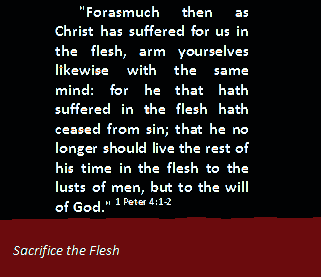 That part of man which the New Testament has revealed to be "the flesh" cannot be healed for nothing within it is sound or good. But God can deliver us from this wretched situation of terminal illness. He can because, in His wisdom, He sent His Son to earth and, "the Word was made flesh, and dwelt among us." That's right! The Word, Jesus Christ, was made into flesh and came to us, and walked with us, and defeated the flesh, as only god could do. He confronted sin in the flesh and beat it.  What does this declaration that the Word became flesh really mean?
Well, it means this. It means that everything God ever hoped for, everything He ever desired in a relationship, everything He ever wanted, imagined, and needed in a human being was fulfilled in Jesus. It means that in Jesus a person can find power over the Flesh. Everything the Father ever uttered that should be in Man, Jesus did it, was it, became it – is perfectly it. That is what is meant by "the Word became flesh". God's Word, His Will, became reality in the flesh. "It is finished!", said Jesus on the cross at Calvary. Because of Jesus' work, flesh was transformed into godly reality, the Flesh was overcome by the perfect submission of the son of god to the Father's loving Will. The Word, the Law, God's love, and all His hopes have been perfectly fulfilled in Christ's Flesh; not in some ethereal being or by some theological or theoretical statements from God but performed in the Flesh to perfection and dismissing the Flesh as a ruler in the lives of men. Also, Jesus can comfort and identify with all our needs, including our need to crucify the flesh by the power and comfort of the Holy Ghost who was ever present with Jesus to comfort him in all his great human trials. The perfect Word perfectly formed in perfect flesh. THE WORD BECAME FLESH AND DWELT AMONG US. God became human, took upon himself, human flesh with its spiritual ills.
Defeating the Flesh
Who then shall save us from our infirmity of imperfect flesh? Jesus can. He defeated the flesh so that our flesh could walk in all reality in accordance with God's Word. God's hope for us is that we walk in the footsteps of His Son and let the righteousness of Jesus Christ so control us that the word becomes reality in our flesh also. If the Word became flesh, as in the Head of the Body: – Jesus. Should not the Body aspire to have the WORD become flesh in itself also? In Christ this can happen. Jesus is not only able to perform this miracle in His believing 'body', - He shall do it. And you and I can be part of this miracle if we will be willing to give all we have to its pursuit. John wrote about this in his first epistle.

"Whoso keepeth His word, [has the will of God control his actions] in him verily is the love of God perfected: hereby know we that we are in him. He that saith he abideth in him ought himself also so to walk, even as he walked."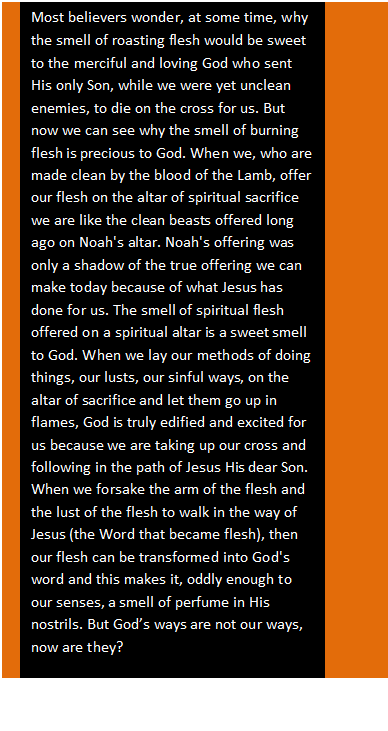 When we are born-again, God takes our heart of stone and miraculously turns it into a heart of flesh. The Word (God's will) can now begin to become flesh in us. To have the word become flesh in us we must walk even as he walked.  Through allowing God to have reign over our Wills we can fulfill the law. It bears repeating, "Whoso keepeth his word, in him verily is the love of God perfected..." How profound is that! This also bears repeating, "He that saith he abideth in him ought himself also so to walk, even as he walked." Return to the book of Romans and Paul's dialogue on the infirmity of our flesh where we get this further instruction, ''for as ye have yielded your members as servants to uncleanness and to iniquity unto iniquity; even so now yield your members as servants to righteousness unto holiness." In other words, stop sinning and giving into lusts of the flesh and, instead, seek rightness with God and live a holy reverent life. We should not kid ourselves. Our carnal (sinful) character can be steeped in intellectual pride, or rebellion; it can be full of self pity or hatred; or we can be dedicated to dead works, which seem good and helpful but are not really God's will at all. Our sinful flesh might be compulsive or inclined to indulgence; we might continually give into the lusts of the eyes; the weapons of intimidation or manipulation might be our stock-in-trade; maybe the desire for revenge is in our heart; or we may battle one of the simplest sins of all, just taking things into our own hands because we think we know the best way to solve things. The Word of God as recorded in the Bible is a source of knowledge to give us understanding of these things in our own soul so we can, with the help of Jesus through the Spirit confront and defeat these things of ill-repute and sin, putting them to death in our flesh.
The flesh is Man's way, it is the arm of Man, it is self-reliance, it is leaving God out, promoting self, vaunting self, which is one of the things denoted as not being of love (1 Cor. 13). It is the way we work before we are born-again of spirit. We must take on the Mind of Christ and reject these things, do it once and for all as a matter of principle and then keep at all times a willingness to repent, from these 'Dead Works' of ours. These works that are dead to spirit can only produce dead things; they must therefore be put to death in us, unless we become ministers of death by our self-righteous sins. We speak now of fundamental spiritual realities for the true believer. Yet it is one of the most difficult things to accept and to maintain in the life of the believer, though it is among the first of the problems we must resolve if we are to spiritually progress.
Unfortunately for most Christians this concept is incomprehensible. They befuddle themselves by thinking shedding self-righteousness and putting on the righteousness of Christ is a work of pride and flesh itself. They have been persuaded by faulting doctrines in the Church to flip-flop the truth. Total failure is to rely on the arm of flesh. Total failure will come of anything in which we rely on ourselves or get entangled with things of the Flesh. Christians must walk not by sight (or the flesh) but we must walk by faith. We must walk in God's instruction, in hope of Him, in reliance of Him, in trust of Him. Ephesians tells us that he has prepared works for us to walk in. He does the work, creates the work, we are only supposed to obediently reside and walk in those works. We merely need to walk in them and follow his directives. We praise God in our churches, our homes, in our daily walk, and in prayer (or at least we should be continually doing this) and we offer it up to God on the altar of sacrifice. This is good. It is pleasing to God that we offer, as a royal and holy priesthood, sacrifices of praise. God loves it. It blesses Him and it blesses us. It can be fun and exhilarating. But there are other sacrifices not always so fun to offer and God wants us to put these on the altar of spiritual sacrifice as well. He wants us to do it with joy. The Bible says God loves a cheerful giver.

The Sacrifice of Flesh
One such sacrifice is this sacrifice of our flesh. This sacrifice will bring forth the fruit of righteousness, peace, great inner joy, and fulfillment. That is why Paul goes on in chapter 12 of Romans to beseech us that we ''present our bodies as a living sacrifice," which he says is our reasonable service. We are all in the same boat. Not only are we in the same boat spiritually and figuratively, but all Mankind literally floated to safety in the same boat. When the floods receded and the door to the Ark fell open, when the gang plank came down and God told Noah to go out and replenish the earth; every Christian ever born, every man and woman alive today, came out with Noah. We are all his direct descendants. Every black, brown, yellow, white or red man is a descendant of Noah. And if, as the Bible says, that Levi gave tithes to Melchizedek (by extension through his great grandfather Abraham) so all Mankind walked down the gangplank with our great, great, great, Etc., grandfather Noah. And if that is so, then on that bright morning when the new rainbow glimmered high in a sunny sky, the very first thing our long ago father (and we also by extension) did was build an altar and offer sacrifices of burnt flesh on it to our Father in heaven. The Bible tells the story of that glorious day:
"And Noah builded an altar unto the Lord; and took every clean beast, and every clean fowl, and offered burnt offerings on the altar. And the Lord smelled a sweet savor"
Most believers wonder, at some time, why the smell of roasting flesh would be sweet to the merciful and loving God who sent His only Son, while we were yet unclean enemies, to die on the cross for us. But now we can see why the smell of burning flesh is precious to God. When we, who are made clean by the blood of the Lamb, offer our flesh on the altar of spiritual sacrifice we are like the clean beasts offered long ago on Noah's altar. Noah's offering was only a shadow of the true offering we can make today because of what Jesus has done for us. The smell of spiritual flesh offered on a spiritual altar is a sweet smell to God. When we lay our methods of doing things, our lusts, our sinful ways, on the altar of sacrifice and let them go up in flames, God is truly edified and excited for us because we are taking up our cross and following in the path of Jesus His dear Son. When we forsake the arm of the flesh and the lust of the flesh to walk in the way of Jesus (the Word that became flesh), then our flesh can be transformed into God's word and this makes it, oddly enough to our senses, a smell of perfume in His nostrils. But God's ways are not our ways, now are they?
This sacrifice of our own flesh is not as easy to offer as the sacrifice of praise. It ought to hurt to have our flesh burnt up by the fire of God. Maybe that's why God is so blessed by it, because it is a sacrifice close to His heart. It is the sacrifice His Son made and it allows His Son to live in us.  It is following in the Son's footsteps as we ought to do. It is picking up our cross and following close after the Son. 
"Forasmuch then as Christ has suffered for us in the flesh, arm yourselves likewise with the same mind: for he that hath suffered in the flesh hath ceased from sin; that he no longer should live the rest of his time in the flesh to the lusts of men, but to the will of God." 1 Peter 4:1-2
Dare to put your flesh on the altar fire. We all came out of the same boat; we all suffer from the same infirmity of flesh. As we are able let us sacrifice our "flesh" to God. Trust not in ourselves, but in Him. Yield.