Dream - A Word of Prophecy
The Antichrist is Here
Sept. 16, 2008
Roxanne Bedard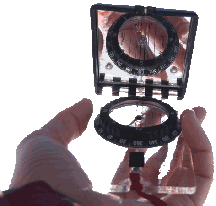 I had prayed the night before that the Lord would give me a word about some personal problems of some friends, and what was coming soon for us in these times. And this is the dream I had that night. Along with others, I stood on a beach, but there was no water in the ocean, and we hadn't come to swim because everyone was fully clothed. My brother stood beside me and I remember trying to explain to someone that a series of events had taken place that were infallible signs that the Antichrist was here and that he was now walking around with a compass/watch on. I was trying to explain it to the person so it wouldn't sound like I was nuts.
Just at that moment a man walked by me who was looking at a compass. Then there was a man with two daughters, and I'm not sure how it happened, but someone abducted one of his daughters, and he was crying. He said he wasn't sure how long it would take for his daughter to get used to her abductors. Which I thought was odd.
And I'm not sure how I knew it, but I knew that the Antichrist had been on an Island where he had been hung. I had discussed with someone how he was hanging for a few hours and the damage that that would do and how no one would have been able to survive that, but this man did. Then the man with the compass walked by again and I realized it was the Antichrist. I only saw the back of him. And he had on dress pants and a white shirt, and he was still looking at his compass.